~

Products Used

~

INK: Tutti Frutti - Cat's Eye - Colorbox QUEUE

PAPER: "If the Crown Fits" & "Happy Ever After" by Imaginisce

GLITTER: Icicle - Stickles Glitter Glue
Well, I had so much fun playing with the new, super-cute line by Imaginisce and wi
th our Feature Product
, Colorbox QUEUE, that I decided to use them again for my card for the Playing in Paradise Sketch Challenge! I bought their cute
dragon stamp
for only a buck fifty and made this card. The black, green, pink and blue inks on this card were all in the same
Tutti Frutti
pack!
Now, here's the exciting part of it...
Becky Fleck
, yes, THE
Becky Fleck
has taken some time out of her busy schedule (probably twice as busy considering the time of year) to design the sketch for our sketch challenge this month! If you come play with us, you could win a copy of Becky's new
Scrapbook Page Maps 2
book!
Check out our store's blog for details!!
I absolutely adore the card and scrapbook layouts that Becky Fleck designed for our store's blog! I have done a card after her card sketch for now... but I definitely want to revisit her lovely sketches for a future scrapbook page or two! I would love to find a tree embellishment that looks similar to the one on her sketch, because it is beautiful and adorable all at once!
I really look forward to seeing what sorts of cards and scrapbook pages everyone comes up with from Becky Fleck's awesome sketch for Scrapbooker's Paradise's
Playing in Paradise
Sketch Challenge this month! Please check out our
blog
to learn how to join in on the fun!!
Don't Forget...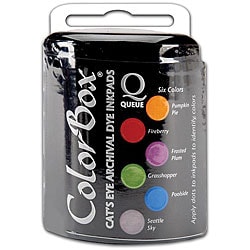 Our feature item over at Scrapbooker's Paradise is Colorbox QUEUE ink!
You can get it at our feature price ($9.50 instead of $11.99) from Dec 16th to 31st. Just write "
FIQUE
" in the comments section when you go to order!
...not only is it listed at our feature price, but we're also having a Colorbox Giveaway! Comment on our Feature Product post over at our blog to be entered to win your choice of Colorbox Queue!!